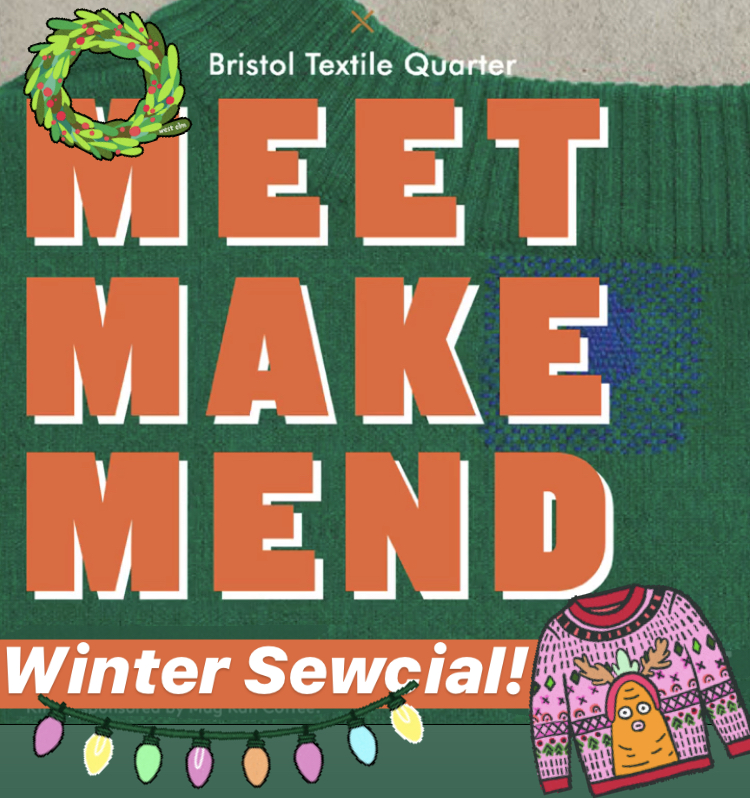 2019 dates:
Tuesday December 3rd  – Winter Sewcial!… Cosy up and join us before we break for the colder months and celebrate a great year of mending! A welcome drink and snacks will be provided. Tickets are available via Eventbrite
Time: 18.30-21.30
Meet • Other members of Bristol's Textile Community
Make • New Contacts, Share Skills and collaborate
Mend • Bring a beloved piece of clothing to mend (*no experience needed, we can help each other)
We continually meet new members of the textile community and we would love to find a way to join up the dots and create a true network for different skills so people can share their knowledge, help each other and collaborate and what better way to do that than by sitting round a table, sewing, chatting a having a drink!
A regular textile get together and mending circle. . . An informal gathering and opportunity for Bring clothes to mend with your sewing bits and bobs if you have, there will be people on hand to offer guidance and advice and we will provide extra resources, needles, yarn, thread and fabric scraps to help you mend your loved clothes
Tea and coffee and biscuits provided, feel free to bring drinks and/or nibbles to share…
*** For a Step by step guide on Sashiko Repair,  read Molly Martin's tips in Toast Magazine
Past dates:
Tuesday January 29th – 18.30 – 21.30
Tuesday March 26th  – RSVP via Eventbrite.
Wednesday April 24th – Fashion Revolution Week – There will be other activities including a  Clothes Swap! Tickets are Free, RSVP via Eventbrite
Tuesday June 4th
Wednesday July 10th – MEET MAKE MEND Summer Sewcial! Tickets available on Eventbrite
Tuesday September 10th – 18.30 – 21.30 
Tuesday October 22nd – Tickets are be available on Eventbrite
December 3, 2019