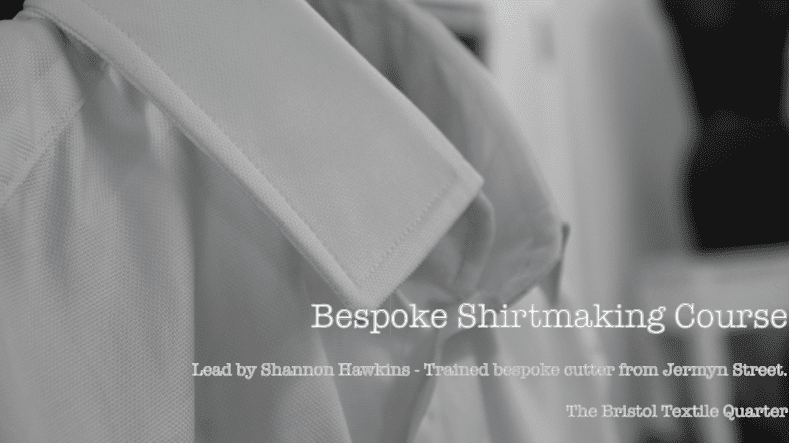 Come and join Bespoke Shirtmaker Shannon Hawkins in this exciting 7 week course.
Date: Monday 4th November – Monday 16th December 2019
Time: 7 – 9.30pm
Location: Bristol Textile Quarter
Cost: £180
Drinks & Nibbles will be supplied for you.
WHAT WILL I LEARN?
You will be able to produce a made to measure shirt which will be fully bespoke to measurements you have taken. You will be taught various techniques on how to draft the pattern from an original shirt block, how to adapt to your measurements- initiating drops, body and sleeve lengths. You will then be able to use your pattern to make a toile version of a shirt – learning traditional shirt making sewing techniques on how to put the shirt together. The course will be a very personal, one to one workshop in an open studio, where you will get weekly feedback on the development of your practice.
HOW WILL THE COURSE BE DELIVERED?
The sessions are 2 ½ hours one evening a week.
WHAT WILL I NEED TO BRING TO MY FIRST CLASS?
An information kit will be provided with all of your handouts inside. You may want to bring a notebook to take notes during demonstrations. You will need to take measurements of yourself or someone before the course starts. You will be sent a step by step pack on how to do this process before the course commences.
​Useful tools:
– Pattern Master (https://www.morplan.com/shop/en/morplan/patternmaster)
– Mechanical Pencil / Sharp pencil – Flexicurve tool
– Sharp Scissors
– Tape Measure
– Rubber
– Tracing wheel (https://www.morplan.com/shop/en/morplan/tracing-wheels)
All the other materials will be supplied to you, the pattern paper and blocks will be provided for you as well as a cotton poplin to make your first bespoke shirt. If you would prefer to bring your own fabric then you are welcome to at your own cost. ​