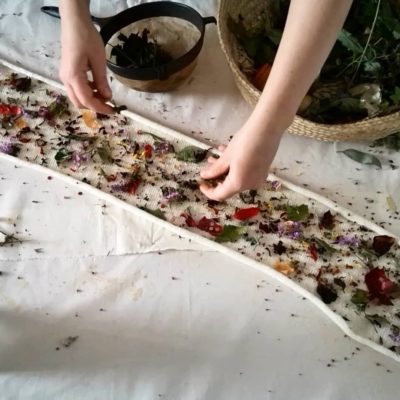 Learn the bundle dyeing technique to create a naturally unique and colourful British wool sock blank.
Ria Burns is a Bristol based designer who creates sustainable knitwear using local lambswool and dyed with homegrown and foraged plants.
Using a selection of seasonal, homegrown and responsibly foraged flowers and leaves, you will decorate the sock blank (a knitted length of fabric) which we will then roll and tie together before steaming to lock in the colour. Once taken home and dried, these can then be knitted directly from the blank (or wound into a cake) to knit into a pair of socks or other accessory – the unique colour and pattern will reveal itself as you knit with it!
The sock blank has been machine knitted by Ria in a 100% British Corriedale wool yarn developed for socks. It is non-superwash and has no nylon content.
Prepared sock blank, dye materials and handouts are provided but please bring an apron and rubber gloves.
Date: Saturday 17th October
Time: 10.00am – 1.00pm
Price: £50
To Book, please visit Ria Burns
COVID 19 PRECAUTIONS FOR GROUP WORKSHOPS
The venue and all equipment will be thoroughly cleaned before your arrival.

The class size has been reduced (max 6 students) to account for distancing measures. You will be expected to abide by the 1m rule while at the workshop.

Please wash your hands and take advantage of hand sanitiser regularly during the day.

Don't forget to bring a mask with you as you will be expected to wear it for the session (unless you are exempt from wearing one).

As it stands, we won't be able to offer you refreshments, but you are welcome to bring along anything you like to eat and drink, or visit a nearby shop or café for lunch.

Please do not attend if you have any symptoms, or have been in contact with anyone who may have Covid-19.

These precautions will be reviewed as per any new government advice between now and the workshop.

Please get in touch if you have any questions or concerns – hello@riaburns.co.uk