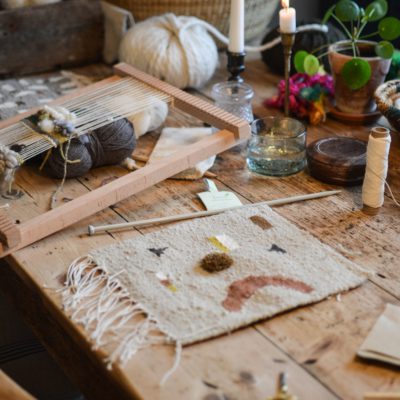 Join modern weaver Mary Maddocks for an evening of weaving. You will learn everything you need to know in this two hour workshop to create a beautiful nature inspired wall hanging, covering inspiration, design and all basic weaving techniques.
A wide range of natural and vintage yarns will be provided for you to experiment with. Suitable for beginners or those with some experience, this workshop is the perfect introduction to what is a very free and creative craft, with huge meditative and wellness benefits too.
You will gain an understanding of different weaving techniques such as rya, looping and pattern making, and you will have a chance to experiment with a wide range of vintage and natural yarns to create texture and colour. By the end of the class, you will have created a small wall hanging and will be on your way to finding your own unique weaving voice.
The class is designed for both beginner weavers and also those wishing to develop their weaving style and meet other weaving enthusiasts.
Date:  Tuesday 3rd November 2020
Time: 7 – 9 pm
Location: Bristol Textile Quarter
Materials: All materials and equipment will be provided.
Price: £45.00
Please book tickets via Mary Maddocks here