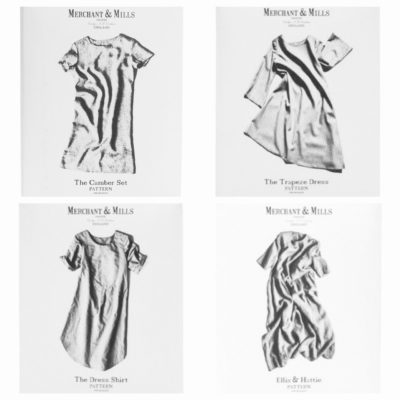 Bring along a Merchant and Mills paper pattern and make a dress in a day with help from seamstress and dressmaking tutor Anna Vickery.
Anna Vickery is a professional seamstress and dressmaking tutor, based in central Somerset. Anna studied Fashion design at UWE in Bristol graduating in 2005, she then worked as a designer and pattern maker and with leather wear.  Anna currently combines making couture and bespoke garments and teaching dressmaking.
Choose from The Camber Set, The Trapeze, The Fielder, The Factory or The Ellis and Hattie www.merchantandmills.com
Bring your own pattern, fabric and notions as required for the pattern, sewing machine, sewing kit including scissors/pins/tape measure and lunch (feel free to get in touch with Anna with any questions.)
Learn as you go, everything from measuring, laying out and cutting, to constructing, altering and finishing your garment. Suitable for beginner and progressing dressmakers, please be confident using your sewing machine.
Work at your own pace in a small group, maximum 6 participants.
Date: Sunday 5th April 2020
Times: 10am-5pm
Price: £75
(payment confirms booking, minimum 4 participants, workshop will be called off 2 weeks before date if minimum numbers are not reached and full refunds given – please bear this in mind when purchasing your pattern/materials.)
To book contact Anna annakvickery@gmail.com