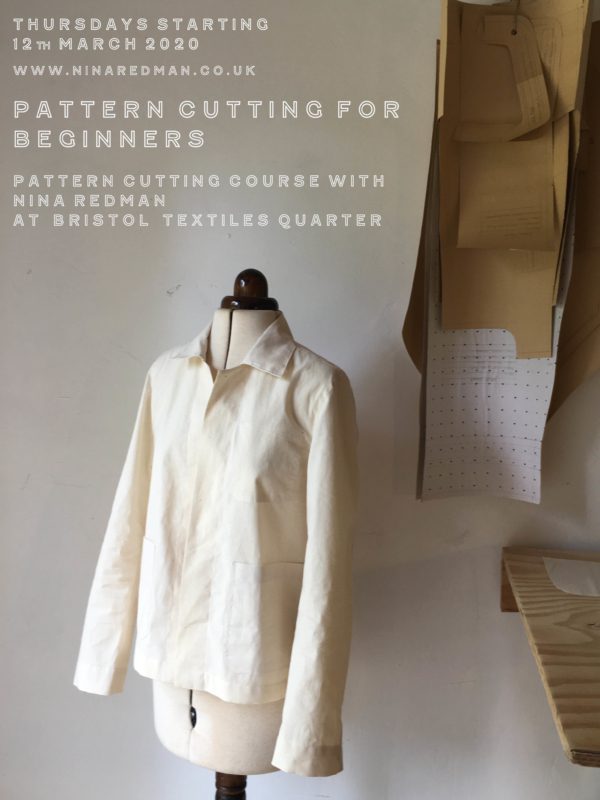 Pattern Cutting For Beginners – from the 12th March –  21st June (half term break on the 2nd April)
Ever wondered how clothes are made? Have you wanted to make your own clothes but been stuck at the pattern stage? Then fear not! This introductory course with Nina Redman will take you through step by step the methods in which to create and alter your own patterns and to make garments using your patterns.
You will be able to create your own pattern blocks, and be taught the various techniques to draft patterns and to adapt them to create patterns for your own designs. You will then be able to use your patterns to make a garment with help and support from tutors to improve your sewing skills. You will get one to one help with sewing skills from inserting a sleeve or zip to more complicated details such as welt pockets and fly front zips.
HOW WILL THE COURSE BE DELIVERED?
The sessions are 2 ½ hours one evening a week.
​HOW WILL I KNOW WHAT I AM DOING?
You will get one to one feedback from the tutor every week.
​DO I NEED ANY EXPERIENCE?
At Intermediate level, we would expect you to be familiar with using sewing machines and may have made clothes from paper patterns before. Beginners are very welcome into the beginner class.
​WHAT WILL I NEED TO BRING TO MY FIRST CLASS?
An information kit will be provided with all of your handouts inside. You may want to bring some paper to take notes during demonstrations. If you want to make garments for someone else, bring their measurements, alternatively if you want to copy a garment bring that along too.
​Useful tools:
Pattern Master (https://www.morplan.com/shop/en/morplan/patternmaster)

Mechanical Pencil / Sharp pencil

Sharp Scissors

Tape Measure

Rubber

Tracing wheel (https://www.morplan.com/shop/en/morplan/tracing-wheels)
​ARE THERE ANY EXTRA COSTS?
All the equipment needed is available for you to use. The materials for the pattern blocks and patterns are supplied as well as material to make a toile (practice garment) extra calico can also be supplied at cost price £2.95 per metre. If you want to make a wearable garment you will need to supply the fabric for this.
​Book your place with Nina Redman