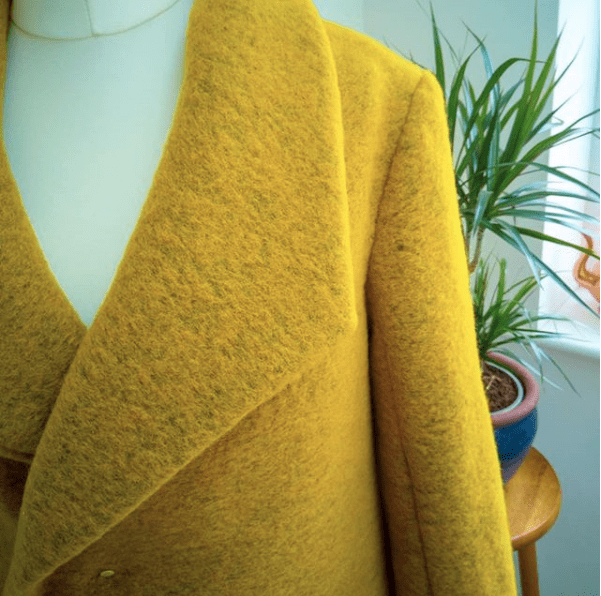 We are very excited to be hosting The Stitch Sisters at BTQ!
The first workshop in September sold out before we could even post, so they are offering an addition weekend course in October.
"In this 2 day workshop we will help you to make a winter coat of our own design – featuring princess seams, a shawl collar and belt closure; this coat is fully lined with two part sleeves and inseam pockets.
Offering a gentle introduction to coat-making, the design will challenge you with new techniques but is simple enough to make it possible to complete in one weekend. Everything can be sewn by domestic sewing machine and the techniques we use will leave you with just one small turning hole to stitch by hand before your coat can be worn.
You are welcome to bring along your own machine to sew on, or you can borrow one of our (very basic) machines instead.
You will need to bring your own coat and lining fabrics but we will provide your pattern and interfacing. Please refer to the size chart (pictured) to find your size and fabric requirements*.
This class is not intended for beginner sewists and we would only recommend it for those who have successfully completed a number of dressmaking projects independently. You will be free to work at your own pace and to take breaks as and when you require them throughout the day."
Date: Saturday October 20th – Sunday October 21st
Times: 10.00 – 16.00
Please book via Stitch Sisters
*In the images shown, Nikki and Rachel have both made a size M (the size chart recommendation would have been a L but we chose to size down for a closer fit). Rachel used a Boiled Wool from myfabrics.co.uk, Nikki used a Melton Wool from fabworks.co.uk, both have cotton linings.