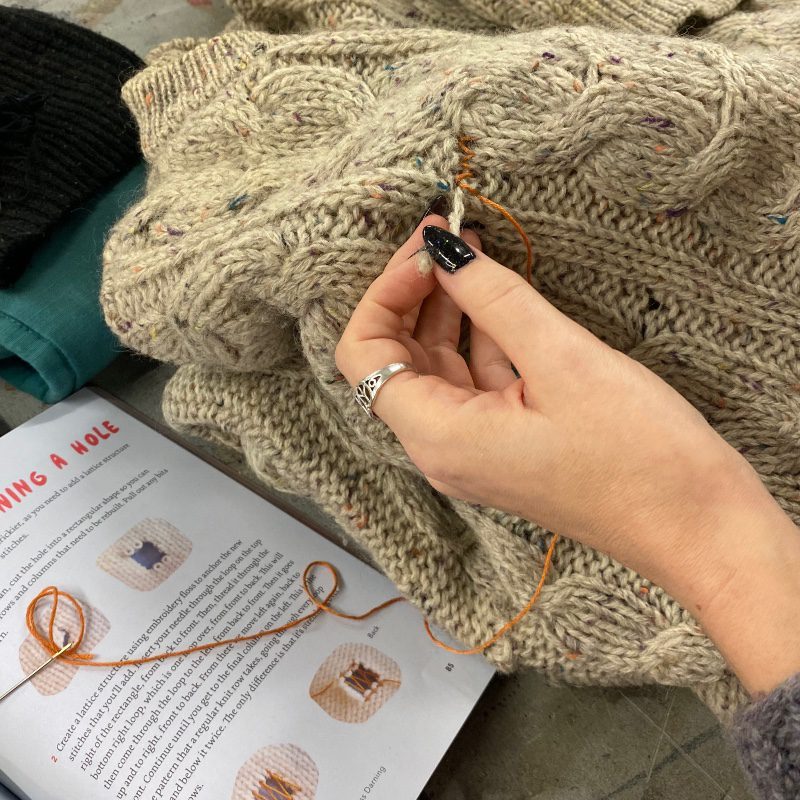 We started our Meet Make Mend events because we all wished we had the time to mend and repair our favourite items of clothing, and we much preferred to give new life to our best loved things than buy something new from the high street.
But it can be so hard to find the time and motivation to tackle an ever-growing mending pile. At the beginning we had a mending corner at our clothes swaps, but this quickly became the busiest corner of our studio.
Everyone has things to mend and it seems like it's easier to tackle collectively, plus everyone can benefit from each others' skills and tips – some self-taught and others inherited. More than this – it has become a space and time that our regulars carve out for themselves and look forward to – no excuses and no distractions.
It's clear that for those who come it is as much about taking a moment out of the rest of life as it is about mending. And while it's not a women's circle, or a stitch and bitch, we certainly notice that the collective mend is also a therapeutic mend.
BTQ was in part founded in recognition of the fact that being a maker can be lonely and isolating, as can having a passion for something slow in world that is ruled by fast. We wanted to create space and opportunity for makers to meet each other, support each other and maybe even collaborate. Working with our hands is therapeutic, and so is taking time out to connect with others who share a common thread.
Meet – Other members of Bristol's Textile Community
Make – New Contacts, Share Skills and start New Projects
Mend – Bring a beloved piece of clothing to mend (*no experience needed, we can help each other)
Check out our events page for future dates…