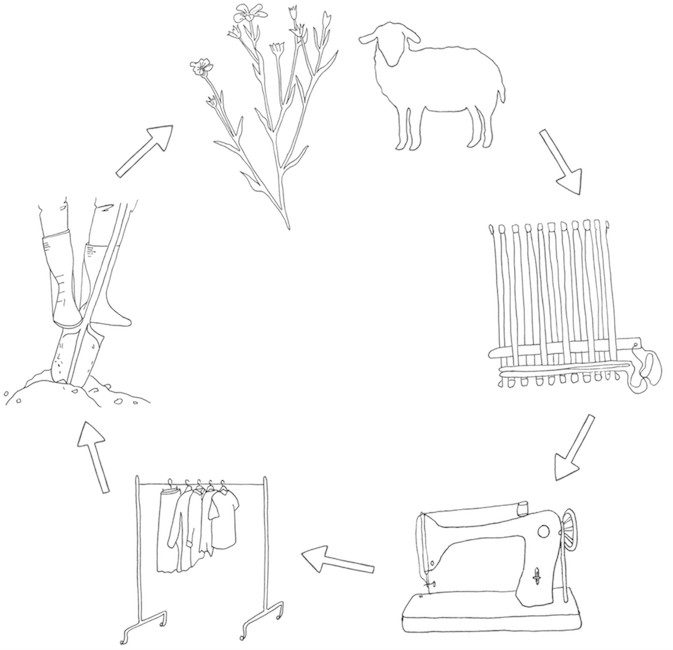 Bristol Textile Quarter is an affiliate of Fibershed, an innovative and growing movement based out of California that envisions the emergence of an international system of regional textile communities that enliven connection and ownership of 'soil-to-soil' textile processes. The scope of what they do is huge, exciting and too big to do justice to here, but please visit their website and have a good read.
In 2015 we stumbled across Fibershed, and registered ourselves in the hope that over time, like-minded people would find us and we could begin to put our heads together and make a plan.
Later that year we proved the Fibershed concept in the South West, by co-founding the Bristol Cloth with Babs Behan. Together we joined the dots between long-term collaborators and fibre farmers Fernhill Fleece & Fibre, natural dye studio Botanical Inks and the Bristol Weaving Mill to create a fully traceable, non-toxic, biodegradable cloth made almost entirely with fibre, dyes and labour sourced within a 15 mile radius – the flagship Fibreshed product!
While Babs has taken the Cloth from concept to market, we are now itching to explore how the Fibershed model can be applied in the South West to facilitate the joining of more dots, the creation of more bioregional products, and the re-building of a healthy, resilient, local textile economy.
PLEASE follow us on Facebook and get in touch via our website if the concept is one that resonates with you. In the South West we are lucky enough to have fibre producers, dyers, spinners and mills; imagine what we could do if we all started to work together.